Mood Edit: Fashion to Channel Masculine and Feminine Energy
On 10/11/23 // Lifestyle
We are all drawn to certain styles of fashion. We may be fiercely femme, gravitating towards highly embellished dresses, or proudly masculine, favoring pieces in black and gray. But what is the difference between feminine and masculine energy? And how might one use these opposing energies to cultivate a personal wardrobe?
Let us explore these questions together and learn to use the power of both feminine and masculine energy in fashion.
Fashion tore down gender barriers before it was cool
For years, men's and women's fashion have leaned heavily towards separate stylistic aesthetics – suit-tie combos for men, sleek cocktail dresses for women.
Princess Polly: Titius pant in navy
But the traditional gender barriers in fashion are getting more blurred than ever. There were many top fashion houses introducing androgynous pieces in their women's collections long before it was cool and accepted, and more and more gender nonconformity is seen in the industry still to this day.
Classic old money casual outfit from NA-KD
This makes me wonder: could fashion be a vehicle for a more expansive dialogue about masculinity and femininity?
At its core, fashion has always been about expression – it's an outward showing of our inner sense of self. For that reason, fashion might serve as a reflection of the gender power dynamics present in our society at large. As such, it seems only natural that fashion would become a platform for exploring what it means to express gender through clothes.
Masculine, feminine
Masculine energy in fashion is often seen as more sharp and rigid while feminine vibes are traditionally more fluid and soft. But gender identity has so many layers to it and can be expressed in so many diverse ways.
For one, there's the ever-present archetype of the femme fatale which would arguably have a lot of the features seen as traditionally masculine: Daring, with a good grip on power, unapologetic, mysterious. So, while classic masculine looks have their place in the fashion ecosystem, there's no reason why someone has to remain stuck on one side or the other of the binary.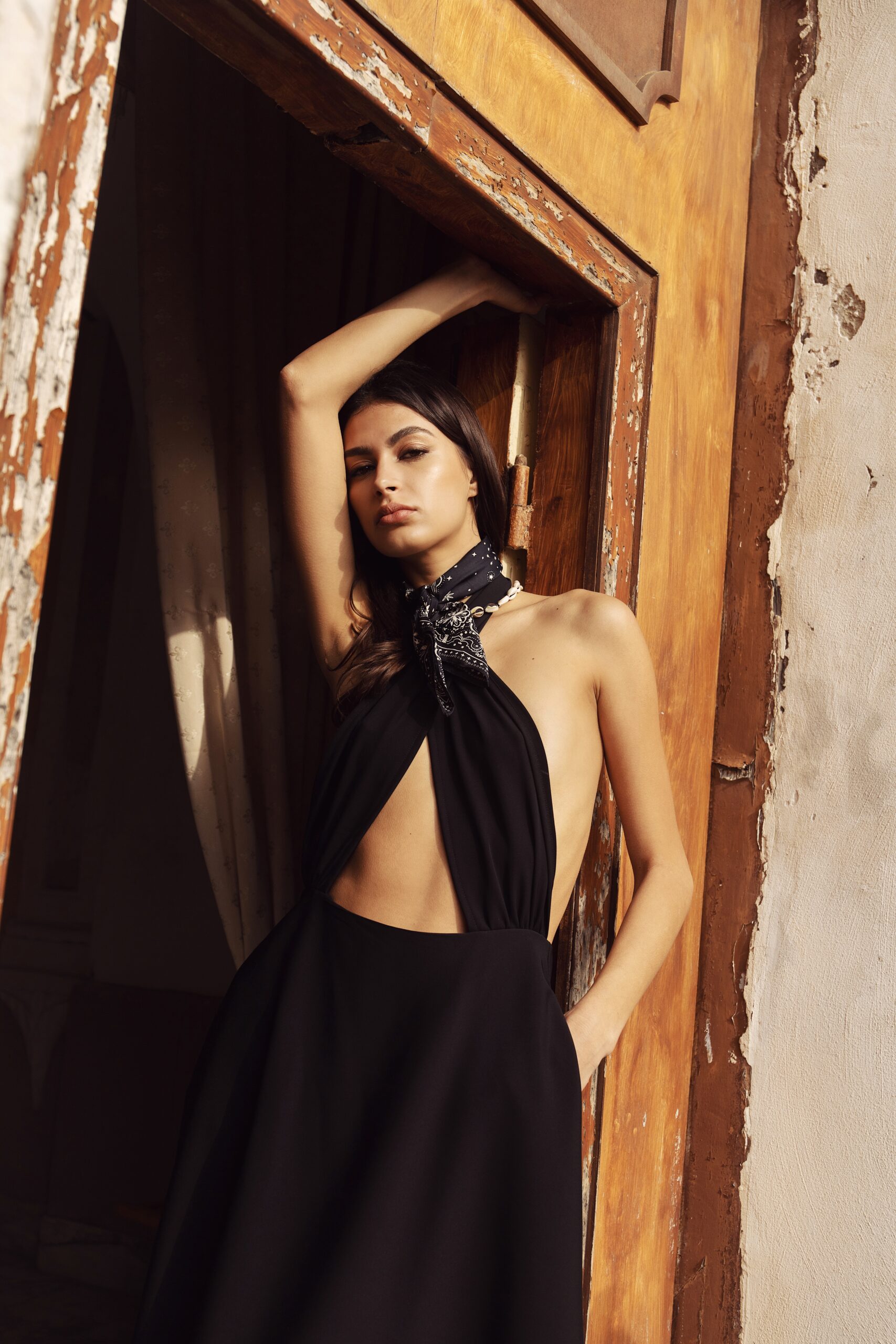 The different ways to wear dark feminine aesthetic: Dress from Fatale Vestiaire
Leather jacket from BAZHANE
One way to channel both masculine and feminine energy is to embrace a more androgynous aesthetic, combining traditionally masculine elements (boxy blazers, tailored trousers, etc.) with typically feminine ones (draping tops, pleats and lace, etc). This has been the core principle of some of the indie fashion trends that have ripped through online fashion communities: the baddie look, the dark feminine aesthetic, even some of the dark or gothic aesthetics.
Princess Polly: Jocelyn faux leather blazer
The same concept can be applied to colors and shades. Playing around with combinations of light and dark hues can create a powerful contrast between traditionally masculine and feminine garments.
For example, pairing a deep chocolate brown blazer with a blue silky top adds an unexpected twist to a look that can feel both classic and modern at the same time.
Princess Polly: Next-in-line biker jacket over a romantic knit dress
Whether you're a fan of traditionally masculine or feminine looks, there's no denying that the fashion industry is shifting to make room for a spectrum of looks and styles that reflect the diverse identities of people everywhere. We can take a page from fashion and start to explore the full potential of masculine and feminine energy in our lives, creating looks that embody our true, unlimited selves.
The Gen Z take on masculine vs feminine aesthetics
Generation Z has developed an exciting view that unites the concepts of masculine and feminine energy through fashion.
Contemporary Gen Z artists, clothes, and styles tend to challenge societal ideas surrounding gender roles and representation. Although these aesthetics are unique, there are similarities between the Gen Z subcultures that have adopted this perspective on the masculine vs feminine energy. By combining both masculine and feminine elements together, these creatives have created a signature look that celebrates both genders and styles.
One of the key elements of the Gen Z aesthetic around gender is their embrace of androgynous silhouettes. By making designs on the genderless spectrum, these styles allow for both genders to express themselves without conforming to any expectations or roles. Arguably, the artistic expression can get more liberated that way. On the other hand, there is a challenge in monetizing those looks and making them wearable.
Naturally the ultra liberated mood gets a bit toned down as soon as money enters the question. For example, wearing a wider pant or a tailored blazer can be seen as gender-neutral enough.
Princess Polly: Miami Vice tomboy cargo pant
In a more wearable way, Gen Z has embraced printed statements and patterns which challenge traditional ideas of masculine and feminine. Whether it's bold slogans, vintage collages, or even custom graphics, these creatively designed pieces have become popular amongst the Gen Z demographic.
By wearing prints that challenge outdated, Gen Z is demonstrating that any form of expression is valid. They are not only making a fashion statement, but they're also making a political statement.
Graphic tee from Princess Polly
Finally, Gen Z has used color as a way to express their feelings about gender. Bold, graphic designs mixed with metallic and neon tones can be seen as a natural representation of both genders, as they merge both visual elements together into a distinct blend.
Other than that, bold aesthetics can inherently take on that rebellious feel as a couple of vibrant colors paired together is traditionally seen as a fashion mishap. Wearing such a combo as a statement can already be quite progressive. This particular move also allows everyone to demonstrate their unique tastes, without associating themselves with one gender or the other.
Overall, I think it's clear that Generation Z has revolutionized the concept of gender-inclusive fashion with their signature look. By mixing bold patterns, creative prints, and genderless silhouettes together, they have successfully created an array of styles which challenge traditional gender roles and embrace unique, individualistic expression. Therefore, the Gen Z aesthetic provides an innovative way of exploring the idea of masculine versus feminine energy, without compromising one's identity.
In conclusion
Fashion has always been a great way to express ourselves, however, when it comes to expressing masculine or feminine energy, it can be a bit confusing. Masculine energy can be expressed through clothing styles that feature monochromatic, simple, and tailored silhouettes. For those looking to express more of a masculine look, brands like Comme des Garcon, Dior Homme and Balmain are perfect examples. Meanwhile, feminine energy can be expressed through clothing styles that are more playful, delicate, and feature softer details. Popular celebs like Bella Hadid, Olivia Culpo, and Jourdan Dunn have all embraced wears that highlight their softer side.
When looking to channel specific energies in fashion, it's important to keep in mind what pieces best fit which archetypes. While many pieces may share similar qualities, certain details will truly make them stand out. For example, think of a tank top with a pair of ripped jeans. This ensemble can represent both masculine and feminine energies, however, the ripped jeans make it a bit edgier, and therefore, slightly more masculine. To create a more feminine look, try pairing the tank top with a dressier pair of jeans or an A-line skirt.
No matter what style you choose to embody, fashion should always be a means of expressing yourself. Celebrities like Kourtney Kardashian, Zendaya, and Kanye West all have distinct styles that exude their respective energies — use them as inspiration to find your own unique identity.